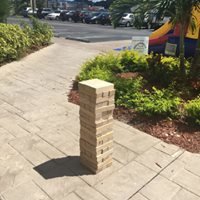 Jumbo Jenga
Jumbo Jenga will stand at 2.5 feet tall and can reach a height of 5 feet! It's great to take outdoors and is perfect for group events, parties and more.

It can be played by 2 or more players.

Directions:
First, build the tower, then take turns to remove a block using only one hand and place on the top. The object is to be the last player to successfully stack a wooden block without knocking down the tower.

Fun for All Ages!